Tuggers and Carts Help Transport Materials in Manufacturing Plants and Warehouses According to Topper Industrial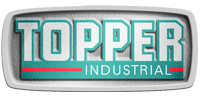 Sturtevant, WI -- (SBWire) -- 02/07/2018 --Topper Industrial's patented designs make operations more efficient, reduce noise levels, improve ergonomics, and safety. These carts are being tugged requiring less effort, as operators transport goods from warehouses to assembly lines and then to finished goods warehouses.

In the past, forklift operators were only able to transport one container of goods at a time to the production line. Once they unloaded a container, they had to return to the warehouse to refill their empty container before they could distribute products to another position on the production line.

By using a tugger and cart system, operators unload products and replace empty containers on the production line multiple times in a single pass. This approach decreases the potential for employee injuries, improves ergonomics (primarily since operators have more time to focus on other projects) and reduces noise since the tuggers and carts are often only transported to production lines once. As a result, carts are becoming more specialized, especially as their popularity continues to increase in nearly every industry that manufactures products.

Custom-built carts have driven Topper Industrial's Ed Brown to invent carts to meet the custom needs of clients such as Anderson Windows, Detroit Diesel, Honda, Kia Motors, Ford, Chrysler, Aramark, Johnson Controls, Whirlpool, and Caterpillar.

Brown holds hundreds of patents in materials handling and insists that manufacturers must be prepared for constant variations in product mix and volume. To fully optimize space for heavy or oddly shaped loads, manufacturers are increasingly purchasing custom-built carts.

To read more, go to: http://bit.ly/2DvfLL6

Topper Industrial, leaders in the material handling equipment industry, will be exhibiting at MODEX 2018 April 9-12, 2018 at booth B4475.

View and vote for the MODEX one-minute video about Topper Industrial: https://www.modexshow.com/attendees/youroneminute.aspx

About Topper Industrial
For more than twenty years, Topper Industrial, (http://www.TopperIndustrial.com) based just outside of Milwaukee, WI, has been a leader in the material handling equipment industry. The company's product roster features industrial carts, conveyors, lifts, lifts & tilts, shipping racks, containers, casters, and cart components. From mother-daughter carts to quad steer carts to tilt carts and rotate carts, Topper's material handling solutions make delivering material line side more effective through more efficient practices. Topper Industrial has a team of experienced professional experts able to assess and provide the right product for all material handling equipment requirements.

Topper Industrial is a proud member of MHI. The Topper Industrial client roster includes Anderson Windows, Detroit Diesel, Honda, Kia Motors, Ford, Chrysler, Aramark, Johnson Controls, Whirlpool, and Caterpillar. Follow on Twitter @TopperInd. Call 800-529-0909.
Media Relations Contact