Bone Grafts and Substitutes Market by Key Players, Product,Analysis and Forecast
Bone Grafts and Substitutes Market was valued at $2,443 million in 2015, and is expected to reach $3,397 million by 2022, registering a CAGR of 4.1% during the forecast period 2016-2022.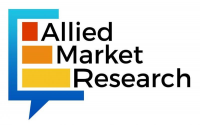 Portland, OR -- (SBWire) -- 03/15/2018 --Bone grafts are implantable materials that promote bone healing, bone formation, and osseous reconstruction due to its osteoconductive, osteogenic, and osteoinductive properties. Bone grafting is a surgical procedure for replacing a missing or defected bone with a material (bone graft) from a patient's own body, cadaver, animals, or a different person.

Increase in in incidence of bone & joint disorders, technological advancements in medical field, development of biocompatible synthetic bone grafts, increase in demand for dental bone grafts drive the market grwoth. However, high cost of surgeries and ethical issues related to bone grafting procedures hamper the market growth. Conversely, increase in focus of key players towards R&D activities in bone grafts and its substitutes and upsurge in demand for orthopedic procedures among geriatric population are expected to provide lucrative opportunities for the market players in the future.

Get the PDF of Bone Grafts and Substitutes industry insights @ https://www.alliedmarketresearch.com/request-sample/1774

Increase in incidence of orthopedic disorders coupled with rapid growth in geriatric population drives the growth of the BGS market in the LAMEA region. However, the countries in Latin America have low gross income, therefore do not spend on the development of new methods and devices for the diagnosis and treatment of orthopedic disorders.Increase in demand for biocompatible grafts has increased the interest and efforts of companies to develop comprehensive orthobiologic platforms. Biocompatible bone grafts do not face the issue of rejection from host, hence, the development of biocompatible synthetic bone grafts is one of the major trends observed in the market.

The development of biocompatible bone graft materials has reduced such failures and enhanced normal bone formation rate in hosts. The market has witnessed the development of many biocompatible bone grafts and their substitutes (such as B-OstIN and hydroxyapatite allografts). As per Basic Healthcare Products, B-OstIN has been implanted with minimum 12 months of follow-up in 500 patients, and has shown no adverse effects. Thus, the development of biocompatible bone grafts has provided an ideal substitute to autogenous bone grafts.

Do purchase inquiry @ https://www.alliedmarketresearch.com/purchase-enquiry/1774

The major players operating in this market include Medtronic plc, Stryker Corporation, DePuy Synthes, Integra Lifesciences Holdings Corporation, Wright Medical Group N.V., Zimmer Biomet Holdings, Inc., Xtant Medical Holdings, Inc. (Bacterin), Arthrex, Inc., Baxter International Inc., and Musculoskeletal Transplant Foundation (MTF).

Key Benefits

- The report provides an in-depth analysis of the market along with current bone grafts and substitutes market trends and future estimations to elucidate the imminent investment pockets.
- The report provides a quantitative analysis for the period of 20142022 to enable stakeholders to capitalize on the prevailing market opportunities.
- Extensive analysis of the market based on product helps in understanding the type of devices used to treat musculoskeletal disorders and degenerative joints diseases.
- Competitive intelligence highlights the business practices followed by leading players across various regions.
- Comprehensive analysis of the geographical regions helps to determine the prevailing opportunities in these regions.
- Key market players and their strategies have been analyzed to understand the competitive outlook of the global market.
- Extensive analysis of the market share is conducted by following key product positioning and by monitoring the top contenders within the market framework.
Media Relations Contact