Spirulina Market Size 2018 : Global Leading Players, Industry Demand, Review, Professional Survey and in-Depth Analysis Research Report Foresight to 2023
Global Spirulina Market Information: by Form (Powder), Application (Nutraceuticals, Food & Beverages) and Region (North America) - Forecast to 2023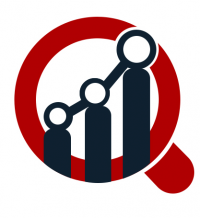 Pune, India -- (SBWire) -- 03/15/2018 --Market Overview:

Spirulina is considered as a high quality natural feed additives, which can be used for animal as well as poultry birds. It also plays an important role in aquaculture, especially, in the aquatic farming and hatchery. The demand for the spirulina is growing mainly in emerging economies owing to increasing awareness about the product and its various usage, thereby, providing opportunities for the manufacturer to expand the market in emerging regions of Asia, Africa, and Latin America. Also, the governments and organizations, specifically in emerging economies of Asia and Africa are considering spirulina as a solution to curb malnutrition. They are taking initiative to increase awareness about the health benefits of spirulina with various promotional campaign, which, in turn, will drive the demand for the product over the review period.

Spirulina is a multicellular and filamentous blue-green microalgae. Since Spirulina is a rich source of protein, vitamins, minerals, carotenoids, and antioxidants, it is used for human consumption and to fight malnutrition. Spirulina grows in fresh water and is also grown artificially based on its nutritional value. It is further procured using various methods and is at the end it is dried and powdered. Over the few years, Spirulina has gained popularity based on its diverse application in food industry (majorly nutraceuticals) and as a potential protein supplement.

The Spirulina Market will at the CAGR of 8.02% during the forecast period 2017-2023.

Access Report Details @ https://www.marketresearchfuture.com/reports/spirulina-industry-market-1321

Competitive Analysis:
This report includes a study of strategies used in the market, mergers, and acquisitions and multiple product launch by spirulina market players. It further includes product portfolios and developments of leading players, which includes

Hydrolina Biotech Private Limited (India)
Synergy Natural Products Pty Ltd. (Australia)
Cyanotech Corporation (Hawaii)
DIC Corporation (Japan)
I.D. Parry (India) Limited (India)
Jiangxi Alga Biotech (China)
Tianjin Norland Biotech Co. Ltd (China)

The market players have increased investment in research and development to identify right formulation and to improve product functionality to capture maximum share and to create brand recognition in spirulina market. Most of the companies operating in this market are focusing on expanding their operations across the geographies, augmenting its capabilities and investing in research and development to offer products with better functionality.

By Downstream Analysis:
Among the form type, powder segment is anticipated to retain its dominance throughout the forecast period. Also, the segment is projected to register the healthy CAGR of 8.24% during the given period due to increasing usage of powder forms of product in the organic food & beverages products and various nutraceuticals manufacturers prefer powder form of spirulina to make their end product. Additionally, powder form of spirulina is widely used in the medicine and other pharmaceuticals products. Among the application, nutraceuticals is accounting 45% of the global Spirulina market and the segment is estimated to retain its dominance throughout the forecast period of 2017-2023. The segment is projected to register a healthy CAGR of 8.32% during the forecast period of 2017-2023.

Receive a Sample Report @ https://www.marketresearchfuture.com/sample_request/1321

Region Analysis
Global Spirulina Market is segmented into Asia Pacific, North America, Europe and rest of the world (ROW). Among these, Asia Pacific region is expected to lead the market over the forecast period. The market is projected to grow at a CAGR of 8.45% in the review period. This is attributed by the huge production of spirulina in China, India, Japan, and other south East Asian countries. Additionally, the spirulina market in Asia Pacific region is fragmented due to the presence of various small manufacturers in China and India. Among the Asia Pacific countries, China is estimated to hold 40% share in the year 2017 and it is estimated to retain its dominance throughout the forecast period.
Media Relations Contact