Trenton New Jersey Adam Paul Green (Draper UTAH Based Capitalist) Introduces NEW Technology (TREATMENT - Natural)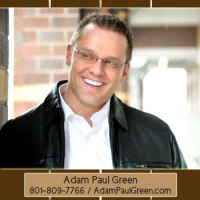 Trenton, NJ -- (SBWire) -- 03/22/2018 --Adam Paul Green was born to a multi-talented beauty queen Mother and a Father who, in addition to being a US Army Spy and a Counter-Intelligence Special Agent, was also a highly accomplished entrepreneur. Adam was taught at a young age that, in both life and business, loyalty is a requirement for success. He's had the honor of working directly with his father in several of the family businesses. In fact, this is where he learned crucial entrepreneurial skills and honed his talents with international business strategies and venture capitalism.

http://www.AdamPaulGreen.com , http://www.ImAdamGreen.com

Adam earned his Bachelors of Science Degree in International Business and Marketing from the University of Utah. He was hand-picked by the President of the University's renowned School of Business to compete with dozens of other ambitious nationwide-graduates for the opportunity to secure a lucrative job within a prestigious Fortune 100 company. http://www.Twitter.com/AdamPaulGreen


Adam's hard work and creativity helped him land this job of a lifetime. He obtained incredible business experience there and spent years innovating, improving processes and setting sales records. Although this dream job in Traditional Corporate America was a fun challenge for him, and something he truly enjoyed mastering, Adam's natural entrepreneurial spirit kept nudging him to do something more significant with his time and talents. http://www.MyChocolatePod.com , http://www.Facebook.com/AdamPaulGreen

Since 2001, Adam has been involved in the Health and Wellness Industry as a successful Entrepreneur, Broker, Product Developer and Manufacturer of Cosmeceutical products. During his career, he has worked with some of the most recognizable Fortune 500 businesses along with many top international Network Marketing companies. Adam has consistently proven his unique ability to help his clients achieve their goals through creative Distribution-Channel Placement, innovative Product Development and custom Manufacturing. Adam currently owns three profitable businesses.


Admittedly, Adam was not initially a fan of Network Marketing. He did not understand the business model because it was new to him. However, once he learned that the REAL focus of Direct Sales is to help average people get a taste of entrepreneurialism --- with minimal risk and at a low cost --- Adam was absolutely convinced of the potential with Multi-Level Marketing.

Trenton New Jersey Adam Paul Green (Draper UTAH based Capitalist) Introduces NEW Technology (TREATMENT - Natural)

Wasatch Product Development is focused on providing the most responsive and flexible service in the industry and has a diverse clientele ranging from leading global companies to virtual and emerging entities. With unmatched technical expertise, innovative equipment and regulatory knowledge, Wasatch maintains a demonstrated record with the FDA as well as with its customers; many of whom have outsourced with the company for over ten years. The Wasatch Product Development's lab is compliant with Good Manufacturing Practices (cGMP) along with being registered and certified by the ATF, and FDA. Wasatch has been developing and manufacturing several unique products for many of the World's most successful consumer product companies since 1998.

Contact COO Adam Green Today!
c: 801-809-7766
e: ops@WasatchContractManufacturing.com

- Get a Quote Now!
http://wasatchcontractmanufacturing.com/contact-us/

Mission Statement
To proactively serve our business community by providing solutions in personal care, business development and liquid nutrition.

Vision Statement
To provide leadership in establishing our client's international businesses, being built on a foundation of innovation, advocacy, technology and business integrity.

http://wasatchcontractmanufacturing.com/

~Wasatch Labs' Core Competencies are:

Anti-Aging
Gene Expression
Neuro-Peptides
Cosme-ceuticals (Skin Care)
Skin "Energy Systems"
OTC Products (Sanitizers, SunScreens, etc)
SPF: Sun Protection
Liquid Nutritionals and Juices
Unique Skin Treatments (Intimacy, Sanitation, and "plumping" products)
Think of Wasatch Labs when you are considering sourcing a secondary manufacturer for your existing products or perhaps a reliable, experienced laboratory for product development.
~Wasatch Lab's Competitive Advantages include:

In-House Capabilities (Packaging Engineering, Formula Development, Manufacturing)
International Capabilities
Total Customer Support
Complete Supply Chain Management
cGMP

Thanks for Stopping By – WPG – HOME Tab
https://vimeo.com/75658706

Whatever the size of the anti-aging product corporation, Wasatch Contract Manufacturing can take it to the next level. They provide packaging engineering, formula development, private labeling, and manufacturing of liquid products. Small Companies: They help small companies identify their industry niche, develop proprietary formulas, and make a strong debut on the market. Many of their current Salt Lake City start-ups are focused on emerging Utah and national markets: gene expression, skin energy systems, specialty sun care, and anti-aging.

Medium Size Companies: Wasatch helps medium companies refine their product lines, improve quality, and manage production growth.

Large Utah Companies: They help large companies diversify and respond to changes in the market. Many large companies are developing new product lines in high-demand mitochondrial anti-senescence, neuro peptides, and acne products. Wasatch Contract Manufacturing is a cGMP, FDA, EPA, and ATF compliant facility. Wasatch has been formulating liquid products for over twenty years without an FDA violation. Call their operations manager today to learn how Wasatch can help a company move forward.

About Adam Paul Green
During his formative years, Adam Paul Green worked for his entrepreneurial father learning Managerial Skills, Venture Capitalism, Sales and Negotiation Techniques in addition to International Business, Finance, Investing and Entrepreneurialism.

Mr. Green is a natural entrepreneur. Not only has Adam had the privilege of working with-and-for Fortune 500 companies, he has also learned from the best international business minds in the world (ZAGG, Huntsman Chemical, OC Tanner, The Boyer Company, The University of Utah and The LDS Church) which is a distinct honor for him.

Adam's lifetime sales are over $517,000,000.

During his career, Mr. Green has helped the most recognizable retail businesses and many of the top 500 Network Marketing companies obtain incredible success through innovative Product Development and Customized Manufacturing.
Media Relations Contact